Brief summary of Gion Matsuri
(C) 1999-2006 Yukiko Tsuchiyama. All rights reserved.
(Produced by Mira House.)
---
History
The origin of Gion Matsuri is "Gion Goryoue" in 7th June 869 AD. That is a festival of lustrating epidemic.
Hokos appeared in 11th century. But, turmoil of the Onin war (1467-1477) prevented its continuance.
Gion Matsuri was resuscitated in 1500 A.D. and become established modern style.
Gion Matsuri is a festival of the people, by the people, for the people. It's a Kyoto's spirit.
---
Yoiyama
"Yoiyama" is a evening festival which take place from 13th to 16th July.
Each Yamahokochou (neighborhood associations that maintain Yama or Hoko) set up displays of Yama or Hoko, play festival music, award talisman and sell festival goods.
Each Yamahoko has some red seal. You can enjoy collecting them on your autograph album.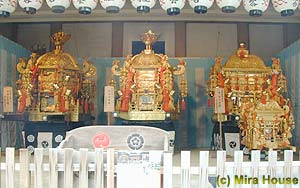 When the begining of Yoiyama, Shijyou douri and Karasuma douri (both are main street of Kyoto) become temporarily pedestrian precinct. Many branch houses get lined up.
It's the climax of Gion Matsuri.
In the 16th evening, some traditional show takes place at Yasaka Shinto shrine where three gods* are enshrined and their three mikoshi (portable shrine) displayed.
You can see Sagimai (dance of heron) , Shinto music and dance numbers.
* Gods of Yasaka Shinto shrine
Susanowo no mikoto (He is a young brother of Amaterasu Oomikami ; Goddess of the Sun)
Kushiinadahime no mikoto (Susanowo's wife)
Yahashira no mikogami (child of Susanowo and Kushiinadahime)
In late-evening (around 22:30) of July 16th, town people of Naginatahoko go to Yasaka Shinto shrine to make a wish for clear sky of Yamahoko procession. You can hear festival music they play.
At the same time, other Yama and Hoko go to Shijyou-otabisyo to pray for Yamahoko procession.
---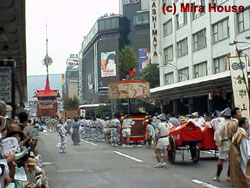 Yamahoko Jyunkou (Yamahoko procession)
In the morning of 17th July, all Yama and Hoko perform circumambulation that called Yamahoko Jyunkou (Yamahoko procession).
This is the highlight of Gion Matsuri.
Each Yama and Hoko show up dressed in the attire which display in Yoiyama. They are too treasurable and exquisite, so that Yamahoko Jyunkou called "Moving museum".
The head of the parade is Naginatahoko.
Naginatahoko starts from intersection of Sijyou-Karasuma at 9:00a.m.
The other Yamas and Hokos follow in good order which decided by drawing lots.
They parade certain passage of Kyoto city. (Shijyou-douri -> Kawaramachi-douri -> Oike-douri -> Shinmachi-douri)
Sightseeing at Oike-douri needs extra charge. Yamahoko Jyunkou breaks up at Shinmachi-douri. Shinmachi-douri is a narrow street and seeing the pass of large Hokos have a tremendous impact. Naginata passes Shinmachi-douri around 11 or 12 o'clock.
After the parade, Yamas and Hokos are broken down as quick as a flash.
In the olden times, people thought that the gorgeous decors of Yamas and Hokos gather up evil spirits. Then, if Yamas and Hokos take apart soon after the procession, evils are splited apart in the same way.
Yamas and Hokos are keeped in storage until next July.
---
Gion Bayashi (the festival music of Gion Matsuri)
Each Yamahoko has its own festival musics. They sound like "konchikichin".
These festival musics were formed in midterm of 16th century and came under the influence of Nogaku theatre. They grew to maturity in Edo Period.
They use three kinds of instruments which are bells, whistles and drums.
---
Talisman
Each yamahoko has its own origin and talisman related it. You can buy these things at Yoiyama.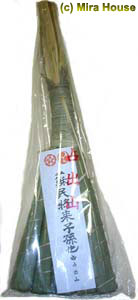 | Name of Yama or Hoko | Talisman, Charm, Chimaki |
| --- | --- |
| Aburatenjin yama | for learning |
| Araretenjin yama | for thunder and fire |
| Urade yama | for easy delivery |
| Ennogyoujya yama | for epidemic and safe driving |
| Kakkyo yama | for mother's milk |
| Kikusui hoko | for eternal youth, longevity, rush of business |
| Kuronushi yama | for ridding bad luck |
| Koi yama | for advancement in life |
| Tokusa yama | for ridding stray child |
| Jyoumyou yama | for victory |
| Suzuka yama | for thunder, easy delivery, property loss |
| Taishi yama | for knowledge, scapegoat |
| Naginata hoko | ridding bad luck |
| Hakurakuten yama | for learning, good luck |
| Hachiman yama | for crying at night |
| Fune hoko | for easy delivery, abdominal bandage |
| Houshou yama | for love, marriage tie |
| Houka hoko | for ridding bad luck |
| Mousou yama | for filial devotion to parents |
"Chimaki" is one of the Japanese traditional preserved food. But Gion Matsuri's chimaki is a kind of good-luck charm.
---
Shinkousai
Traditionally speaking, Yamahoko Jyunkou was a event prior to evening festivals called "Shinkousai" and "Kankousai".
In Shinkousai, three gods in Yasaka Shinto shrine come to Kyoto city by Mikoshi (means "portable shrine"). It takes place in the evening of 17th July. Then, three gods return to Yasaka shrine in the evening of 24th July by Mikoshi. This event is called Kankousai.
Three gods stay in "Shijyou otabisyo" (means "temporary shrine in Shijyou street") 1 week (7/17-7/24) and bless Kyoto city.
Legend has it that if you pray at Shijyou otabisyo in this seven straight nights, you can be granted your wish.
---
Hanagasa Jyunkou (the procession put on bamboo hats decorated with flowers)
In former days, they have 2 times Yamahoko Jyunkou at 7/17 and 7/24. But nowadays, Yamahoko Jyunkou is performed only 7/17. All yama and hoko parade this day. Instead of 7/24's Yamahoko Jyunkou, they have Hanagasa Jyunkou now.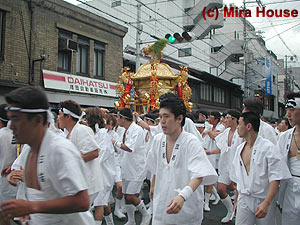 In the morning (10:00a.m.) of 24th July, Yama with flowers, women with bamboo hats, men pretended herons and all that parade around Kyoto city.

We can see "Kujiaratame" at Shijyou-douri street. This performance make certain of their procession order.
---
Kankousai
In the evening of 24th July, three gods staying Shijyou otabisyo return to Yasaka shrine by Mikoshi.
Three gods go off one after another. Then Mikoshi go around the area where the shrine parishioner lived.
They get back to Yasaka shrine around 10 o'clock.
---
---